Sage 100 ERP Version 2014 Released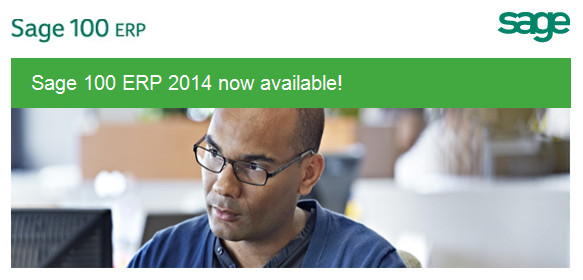 Sage announced the release of Sage 100 ERP 2014. The new version is available for download on the partner and customer portal. With the 2014 release of Sage 100 ERP, Sage continues to deliver value with a variety of new system enhancements, Sage Mobile Solutions, and Sage Inventory Advisor to our customers. Sage 100 ERP 2014 connects customers to the cloud, giving their business access to cloud and mobile capabilities to confidently run their business.
Sales and services people have access to customer information and can invoice customers and collect payments from the field. Procurement has deep visibility into inventory to properly manage stock levels. Invoicing is done electronically and managed by exception. Executives have analytics on all parts of the business, everything connected with Sage 100 ERP 2014.
Sage 100 ERP 2014 is the foundation for companies looking to:
Create loyal customers by providing a better customer experience.
Hit sales goals and increase revenue.
Operate with confidence by making better business decisions.
Featured Sage 100 ERP 2014 capabilities
Provide a better customer experience

Empower customers to access, pay, and view invoices online
Present to customers with a visual catalog on an iPad
Take photos and collect customer signatures on service work with an iPhone
Know your customers better through social media integrations

Increase your revenue

Suggest related or additional items through your visual iPad catalog
Provide a quote, place an order, and take payment with your iPad
Access customer information and capture sales activity with your iPhone

Make better business decisions

Visually see your business data with easy to use dashboards
Spend more time analyzing your business with automated reporting
Stock the products customers buy with better inventory analytics
For more highlights on what is new in Sage 100 ERP 2014, see Sage's
microsite
.
New Sage 100 ERP 2014 keys have been created for this release. It is now not requried to have a different install CD based on the version of Sage 100 being installed. The download will contain the Standard, Advanced and Premium version of Sage 100 ERP. When installing the license keys will determine which version is to be installed. The new version is only available for download. There will not be a DVD sent with the new version.