Sage Software Releases Multi-Bin Basic for Sage 100c
Are you looking for Multi-Bin with Sage 100? After years of waiting, a big announcement has been made related to Sage 100 and Multi-Bin.
In a recent email, Sage announced Multi-Bin Basic for Sage 100c. This Basic version of DSD's (3rd party developer) Multi-Bin enhancement is being released with the Subscription version of Sage 100 (Sage 100c). What makes this even better is that Scanforce (warehouse management developer) announced their EXCLUSIVE arrangement with Sage and their integration to the Basic Multi-Bin. Here is Scanforce's announcement: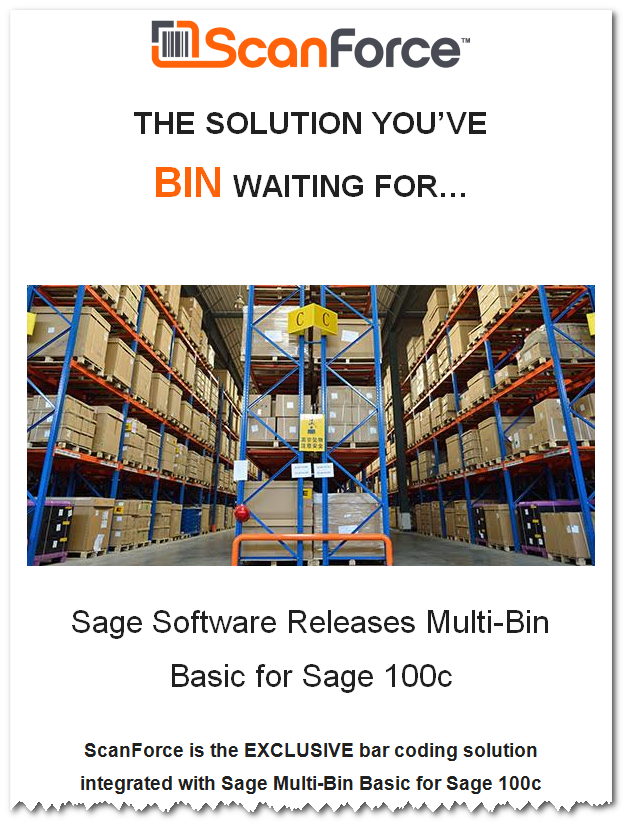 For years we've heard the rumors of a Sage Multi-Bin solution. In an unprecedented release, Sage included the DSD / ScanForce Multi-Bin in Sage 100c. Adding Multi-Bin functionality is a game-changer in managing inventory. Detailed location information provides the missing link you have been waiting for.



So how do you actually manage this info???



ScanForce WMS
Adding another layer of information into your Sage system opens you to another point of inaccurate data. Close that gap by adding
the only integrated barcode solution
– ScanForce.
Contact us to learn more and find out how to get the most out of your Sage system.
Tags: Sage 100 ERP Sage Software Sage 100cloud Sage Multi-Bin