More Jobs coming to Georgia thanks to the Panama Canal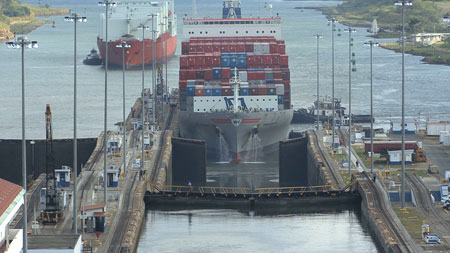 Changes to the Panama Canal are predicted to increase shipping to Southeastern ports according to a Boston Consulting Group study that was noted in a recent
Fortune
article. The study estimated that about 10 percent of East Asian container traffic to the United States will shift from West Coast ports to East Coast ports by 2020. Ports identified in the south that will benefit from this increase are Savannah, Georgia and Charleston, South Carolina. In a recent newsletter,
APICS
had this to say:
Panama Canal Expansion Could Shift Shipments to US East Coast
A new study by the Boston Consulting Group predicts that the expansion of the Panama Canal will shift about 10 percent of East Asian container traffic to the United States' East Coast ports by 2020, according to Fortune. With East Coast ports already steadily gaining shares of that flow, the total shift might be as high as 15 percent, leaving a 50/50 balance between the coasts, it reports.
The study, completed in collaboration with the logistics provider C.H. Robinson, suggests that after the expansion, shippers will be more likely to use East Coast ports to move Asian goods bound for Detroit, Memphis, Chicago, and surrounding regions.
These East Coast deliveries are expected to reduce per-unit expenses for fuel, crewing, and insurance on routes to the Midwest. Cost is most likely to be a deciding factor for the routes of goods like couches and tires, where transportation can make up nearly half of the cost of goods sold, it says. However, goods reliant on speed, such as fashion, will likely still move through West Coast ports. On the other hand, even those shippers may shift part of their supply chain eastward to protect against any issues with West Coast ports.
The report identifies New York-New Jersey; Savannah, Georgia; Charleston, South Carolina; and Norfolk, Virginia, as the ports most likely to benefit from the shift. In addition, East Coast deliveries could create more jobs between the East Coast and the Midwest to help move goods.