Extend the power of your Sage ERP Solution with Sage CRM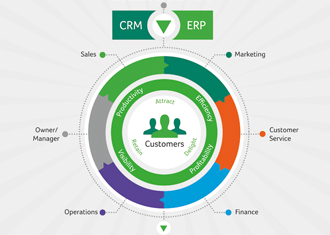 Small and medium sized companies are under increasing pressure to build cost-effective and optimized environments that accelerate success. Part of this success comes from automating processes within the business, doing more for less, ensuring staff work smarter and management have the information they need to make better informed business decisions, driving revenues and controlling costs.
Sage CRM integrates with Sage ERP solutions to enable businesses like yours achieve a distinct competitive advantage through a paired CRM and ERP Solution. With a single view of all customer activity across your entire business, you can improve workflow and visibility, increase business-wide productivity and ultimately drive profitability and growth.
Transform your business into a customer-centric company
Every SMB has the opportunity to transform itself into a customer-centric company, and a number of incremental steps will drive this agenda:
Improve customer service. With a complete view of CRM and ERP interactions across the entire customer lifecycle, customer service staff can resolve queries more quickly and personalize the response
Market more effectively. With combined CRM and ERP systems, you can devise more targeted campaigns based on real customer information, delivering a better return on the marketing spend
Make people more productive. Joined-up systems can avoid the duplication of work and make staff more productive. Customer service staff can be more pro-active in handling customer queries and resolve them more effectively. Sales teams can source quotes quickly and meet specific shipment/delivery requirements
Work faster and smarter. Automating workflow that seamlessly connects one department to the next and each transaction along the way, can ensure your business processes run smoothly and efficiently
Use visibility to drive profitability. With business-wide insights into the volume and value of trade becoming more visible, you can easily identify sales patterns and cross-sell opportunities
Pitch new products to the right people. With better business-wide visibility, you can start to leverage reliable customer data to target customers that are the best fit for new products or services and devise marketing strategies to catch their attention
Tags: Sage 100 ERP Sage CRM