April 2015 - Volume 15 - Issue 2
Introducing Sage 100 ERP 2015
Scheduled for release on April 7, 2015, Sage 100 ERP 2015 is one of the most feature-packed new releases in a while. It includes a long list of enhancements, many of which are inspired by customer requests submitted through the Sage 100 Ideas website.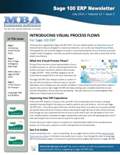 Take Your Newsletter To Go
Don't have time to read the newsletter right now? Download a copy and save it for later.
Shorten Your Sales Cycle With Sage CRM 7.3
With the recent release of Sage CRM Version 7.3, Sage rolled out a bunch of new tools and reports that can help you accelerate your sales cycle and make the most of every opportunity. Let's take a look at these new sales accelerators.
Does Sage 100 Support Affordable Care Act (ACA) Requirements?
That's probably a question most Sage 100 ERP customers are asking themselves. And you'll be happy to learn that the answer is yes. Here's a look at new payroll options and features to help you manage ACA tracking and reporting.
Sage Summit 2015
Early Bird Registration Now Open
This year Sage Summit 2015 is headed to New Orleans for the annual gathering of Sage customers and partners.

Join the fun July 27 – 30, 2015 in the "Big Easy" for this unique conference where you'll find inspiration from world-class business leaders, workshops, networking events, and tips to make the most of your Sage product.

Head over to the Sage Summit website to register today and save with early bird rates through April 30, 2015.

Contact MBA Business Software
Address:
1117 Perimeter Center West Suite E210
Sandy Springs, GA 30338

Sage Software, Sage Software logos, and Sage Software product names and services mentioned herein are registered trademarks or trademarks of Sage Software, Inc. and/or its affiliated entities. Other product names mentioned herein are trademarks of their respective owners.
Tags: MBA Newsletter